Removing Mold Damage from Rockaway Park Homes
4/13/2023 (Permalink)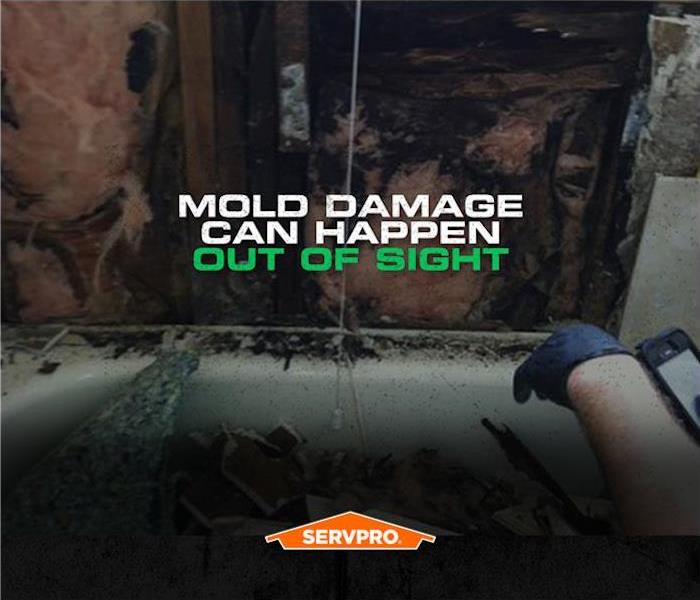 Trust SERVPRO for mold cleanup and remediation in Rockaway Park. We restore your property, "Like it never even happened."
SERVPRO Helps Homeowners Through Mold Damage
When mold damage exceeds 10 square feet in the affected area, the EPA and other trusted sources state that professional remediation services are necessary. The suspicion of mold can be enough to contact an inspection company to verify and confirm the presence of microbial colonies. This team ultimately directs professionals like ours on the work necessary to return your property to its original conditions based on their assessment.
Understanding the Truth About Microbial Damage
There is much bad information about mold damage in Rockaway Park properties. You can convince yourself that the situation is not as bad as it seems or that rapid remediation is unnecessary. Debunking some of the myths about mold can help you to appreciate the severity of these situations and why quick action is your best option to protect your property and those exposed.
Can Anyone Fully Remove Mold?
One significant area of misinformation is the complete removal of mold. Spores are part of every environment in our household and, in most cases, pose no threat to your home or family. Only when moist conditions are favorable to colonization does mold removal often need to occur.
Will Mold Resolve Itself?
Mold will not resolve itself and often becomes a worsening scenario for your household until remediation gets underway.
Is DIY Remediation Possible?
It is only recommended to attempt to clean up a very small surface area of no more than 10 square feet. Beyond this, the situation could be much worse than you might see. Our IICRC-certified technicians can get the job done right.
The Earliest Stages of Mold Damage Recovery
Before beginning the necessary remediation and cleanup of affected materials in your home, we must perform initial actions to expedite this restoration process. This mitigation serves as an accelerant for the recovery of the house and a safeguard to prevent the situation from worsening.
Containment – Actions taken to stop the spread of mold spores and migrating organisms.
Evaluating the Structural Damage – Assessing the condition of hosting materials to determine if they are salvageable through cleanup and drying.
Finding the Water Source – We seek out the source of moisture damage to offer needed repairs or sealing services.
Removing Mold Damage
When it comes to removing the mold that has been found in your home, several approaches can accomplish this. Our decision in how we approach mold removal varies based on our assessments of material salvageability and the severity of the mold infestation. While superficial cleaning is ideal, it is not always enough to address the full spectrum of spores or active organisms in affected rooms. Remediation takes many forms, such as:
Surface Cleaning
Abrasive Removal
Power Sanding
Demolition
Overcoming Threatening Musty Smells
One of the telling signs of mold damage in your house is a strong, musty smell that accompanies mold development. Volatile organic compounds are generated by active colonization, and these compounds are recognizable by their strong scent. Homeowners can sometimes determine the presence of mold without seeing colonies based on this distinct malodor. Deodorization is an important part of our remediation process, using various tactics from oxidation to HEPA filtration and fogging.
What Repairs Are Necessary?
You might not immediately be thinking about the repairs and reconstruction your home could require after mold colonies. Because some of the remediation processes might have included controlled demolition, replacing these building materials is a priority for our professionals to return your home to preloss condition. In addition, we must provide suitable solutions to protect your home against recurring mold in the future. This might ultimately require sealing services or repairs to the structure where moisture has been allowed to enter the property.
If you think mold might threaten your home, do not let a bad situation worsen. SERVPRO of The Rockaways, Coney Island professionals can help with our quick response and experience with effective remediation solutions. Give us a call at (718) 400-9051.